.
7vs7 gameday/tournament vol 6. will be held in October 2023
01.10.2023 top 4 results:
FCT Titans
FC Pivo
FCS Must
When: Saturday, 1st October 2023
Where: 14:00 – 18:00 Loo stadium, Saha tee 7.
Max. teams 10.
Two groups, Fast 1x 15 minute games on two fields at the same time. Top two teams advance to half-finals and other teams to placeholder matches.
Game time in playoffs/placeholder matches is 1x 17 minutes.
The tournament is mostly meant for rahvaliiga A & B level teams. But all level players are allowed!
All games will be serviced by licensed referees
Fee 70.- Eur/team (bank transfer)
LHV BANK • Soccer Social Club • EE317700771006166866
Registration: info@fcs.ee, 58 092 967.
The gameday tournament winner will win an entrance ticket to our next Social Summer CUP 6vs6 tournament on 13th July 2024
(worth 110.- Eur)
With cold weather tea & snacks will be provided.
………………………….
FCS Valge/Sinine/Mixed
FC Amadiski
FC Pivo
GSE
Kassisaba Koljatid
FC Lootus
JK Hanila Tulevik
FC Spartak Tallinn
FCT Titans
…………………………..
Disciplinary rules
Yellow card = Team plays 2 minutes without that player who got the card (or until a goal is conceived), 2 yellow cards in one game does not equal a red card.
Red card (game situation) = Team plays that game without one player + player who made the foul skips one match (he can play if the next opponent allows it).
Red card (serious? violent act) = Ban from 1 game up to all games left in the tournament (decision will be made by referee & organizer
7vs7 gameday tournament vol. 5 winner is FC Cerberus mixed team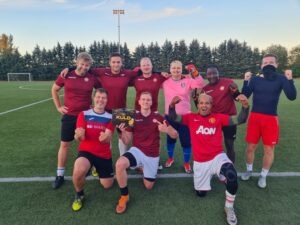 Congratulations to the winners and thank you all for having a great time with us!
FC Cerberus (15 points)
 JK 32. Keskkool (12 points)
GSE (9 points)
FCS Valge (6 points)
FC Must (3 points)
FC Millennials
The next 7vs7 gameday/tournament will be held in April  2023
Tournament vol. 5 winner FC Cerberus mix won a free entrance to the next tournament
Previous winners:
Tournament 4: GSE
Tournament 3: GSE
Tournament 2: FC EstHam United
Tournament 1: FCS Must / JK Loo mix