7vs7 gameday/tournament vol 5. will be held in September 2022
When: Saturday 10.09? confirming in the end of July.
Where: 16:15 – 20:00 Loo stadium, Saha tee 7.
Max. teams 10.
Fast 1x 17 minute games on two fields at the same time. Every team plays at least 4 to 5 games.
The tournament is meant for beginners/rahvaliiga B. But all level players are allowed!
All games will be serviced by licensed referees
Fee 70.- Eur/team.
Registration: info@fcs.ee, 58 092 967.
The gameday tournament winner will get a free  entrance to our next tournament in August 2022
7vs7 gameday tournament vol. 4 winner is once again GSE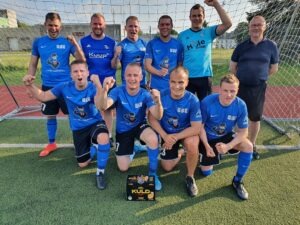 Congratulations to the winners and thank you all for having a great time with us!
GSE (13 points)
FCS White/Valge (9 points)
JK 32. Keskkool (8 points)
FC Kostivere (7 points)
FC Cerberus (6 points)
FCS Black/Must (This time 0 points, but good effort
)
The next 7vs7 gameday/tournament will be held in September 2022
Tournament vol. 4 winner GSE won a free entrance to the next tournament
Previous winners:
Tournament 3: GSE
Tournament 2: FC EstHam United
Tournament 1: FCS Must / JK Loo mix